Download.
In the Book of the Exercises:
[23] "Man was created to praise, reverence, and serve God our Lord, and by this means to save his soul; and the other things on the face of the earth were created for man's sake, in order to aid him in the prosecution of the End for which he was created. From this it follows that man is to use them as much as they help him on to his end, and ought to rid himself of them so far as they hinder him as to it."
Usual Preparation Prayer.
In the preparatory prayer I will beg God our Lord for grace that all my intentions, actions, and operations may be directed purely to the praise and service of His Divine Majesty.
First Prelude: The composition of Place: Heaven opened above me and hell yawning under my feet; also myself placed on this earth, halfway between heaven and hell, and saying to myself: "For all eternity I'll either be in heaven with God, Mary, and all the saints, or else in hell suffering the torments of Satan; and it depends on me alone, which of these two conditions will be my lot within a few years, perhaps within a few months, weeks, or days; it depends on me alone whether I am to gain so great a good or to incur so great an evil."
Second Prelude: The Petition I need to ask for light to know clearly, to realize intimately the supreme importance of this matter of my salvation and sanctification, as well as strength to adopt resolutely all the means that will most surely bring it to a successful issue. This, then, I must implore with all the energy of my being, with the utmost earnestness and fervor.
That truth we just heard is called "The Principal and Foundation," and early Jesuit books on the Exercises call it "the groundwork of the entire spiritual and moral edifice."[1] This point, then, is the foundation of the entire Spiritual Exercises, and must be the foundation of my entire life.
Let's hear those words again: "Man was created to praise, reverence, and serve God our Lord, and by this means to save his soul; and the other things on the face of the earth were created for man's sake, in order to aid him in the prosecution of the End for which he was created. From this it follows that man is to use them as much as they help him on to his end, and ought to rid himself of them so far as they hinder him as to it."
There are three things we can consider: first, the end for which we were created, second, the means to attain this end, and thirdly, the difficulties that we encounter in choosing the right means. So the end itself, the means to it, and the difficulties in choosing it.
The end of man: Why are we even here on this planet on the first place? Why are we here and not nothing? We know that God created us, and that He did so out of love. He didn't and doesn't need us, He didn't do Himself a favor by creating us, but rather He called us into being to show forth His greatness and love. God, who is the Eternal Being, Infinite Perfection, Love Itself, wanted me to come into this world, to share in His love and His perfection. I belong entirely to Him, and therefore my life must be entirely concerned with doing whatever it is He asks of me.
If you're familiar with the Baltimore Catechism, you probably recognize these points as the first four questions: 1. Who made us? God made us. 2. Who is God? God is the Supreme Being, infinitely perfect, who made all things and keeps them in existence. 3. Why did God make us? God made us to show forth His goodness and to share with us His everlasting happiness in heaven. 4. What must we do to gain the happiness of heaven? To gain the happiness of heaven we must know, love, and serve God in this world.
These are simple truths! There's nothing tricky about them. But we forget them! One of God's most common commands in the Old Testament is "Do not forget!" All I have to do in this world to get to heaven is to love and serve God: that's my whole purpose. As Christ Himself says: "What profit is there for one to gain the whole world
and forfeit his life?" his eternal life? This is a matter of supreme importance; in fact, it's really the only important thing in this life: I must serve God and save my soul. That's it: I must save my soul. But how? For this, God has given me a number of things, a great number of things, so I can serve Him.
What are the means to attain this end? The means are "all other things on the face of the earth; all of created reality." Absolutely everything created on this planet is made to help me get to heaven. This is their sole purpose: to help me get to my eternal home with God. My vocation, my job, my savings account, my family, my skills, my talents, my friends, my education, absolutely everything is supposed to help me get to heaven. These are the means that I use to serve God, to do His will as He desires. God, who is the author of creation, wants me to get to heaven; He wants me to be there with Him for all eternity, and so He provides everything that I need in order to get there. How wonderful! How loving!
This all sounds so simple! Yet . . . it's hard, the hardest thing we have to do in this life: "Whoever wishes to come after me must deny himself, take up his cross, and follow me." I so desire to serve God with all my heart and all my soul, but . . . things stop me. What are these difficulties?
The difficulties are these very same things that God gave me: all of these means are good if I use them for that end, in order to get myself to heaven, but if I don't, if I make them my end, instead of God, then they become harmful for my soul and my salvation. If I serve created things, be that in some vice that I have, in some job that keeps me from doing God's will, the pride I take in my work or my talents, I can't serve God. "No one can serve two masters . . . you cannot serve both God and the riches of this world." It's a hard, cold fact. When this happens, I have an inordinate (meaning, unordered or disordered) attachment to that thing.
If I make my end something other than God, I become a slave to that thing. I become inordinately attached to it; it become my precious, my idol, the focus of my life and energies to the exclusion of God's will. Having an attachment is like wearing sunglasses: it distorts everything, the way I think, the way I see things. My will is caught up with it, my mind is fixated on it, and I can't do God's will. This doesn't mean that I can't have things, or can't use things, but the problem is when I become more attached to them than I am to God's will.
Ignatius defines the Spiritual Exercises this way: "We call Spiritual Exercises every way of preparing and disposing the soul to rid itself of all inordinate attachments, and, after their removal, of seeking and finding the will of God in the disposition of our life for the salvation of our soul" [1]. This ridding of attachments is one of the key purposes of the Exercises.
For now, we must see what it is we are inordinately attached to, so we can break those attachments, and seek the will of God. Again, many times these things are good in themselves: money, for instance, can be a good thing if we use it well. However, as Saint Henry wrote to his son, "the riches of this world are fleeting and meaningless, while [they are] possessed, unless we can glimpse something of heaven's eternity" in them. Everything has to help me to my end, and if a created things doesn't do that, I need to leave it behind.
How do we know when something has become an inordinate attachment? We can consider three criteria given by Fr. Thomas Dubay in Fire Within which just take what Ignatius says, and makes it more concrete. First, is that the activity or thing is diverted from the purpose God intends for it. Many things in this world are good, to a point, but when sleep, food, study, or whatever gets away from its purpose, there is a disorder. The second sign is excess in use. As soon as we go too far in eating, drinking, recreating, speaking, or working, we show that there is something disordered in our activity. We cannot honestly direct to the glory of God what is in excess of what He wills. Excess is a clear sign of disordered attachment. The third sign of attachment is making means into ends. . . . As soon as honesty requires us to admit that this [or that thing] is not directly or indirectly aimed at Father, Son, and Spirit, we have made ourselves into an idol. We are clearly clinging to something created for our own self-centered sake.
Again, we can be attached to pretty much anything: physical things like objects or places or work, spiritual things like a gift or talent, and even just my way of seeing things and doing things. Certainly things like vices, or attachments to sin, need to be given up: these are the easiest to see, and the first things to be broken with.
However, if we're free from attachment to grave sin, this work of looking for attachments must be thoughtful and attentive. In a letter to her spiritual director, Saint Gemma Galgani recounts how she was attached to something sort of odd. She writes that she was completely detached from everything, that she had nothing, and yet Jesus found something: "But Jesus – Padre, do you know what He said? – 'That tooth of Ven. Gabriel, tell Me, My daughter, are you not too much attached to that?' (This tooth was a relic of Saint Gabriel Possenti and had been given to her by her director). I was silent for a moment, and then began to complain: 'But Jesus,' I said, almost in tears, 'that's a precious relic!' And Jesus answered rather seriously, 'Daughter, it is your Jesus who tells you so, and that should be sufficient for you.' Alas, it is true Padre. Jesus is right. Sr. Maria asked me for it in order to show it to the nuns, and when I had given it to her I cried because I wanted to have it always near me. But Jesus, Jesus, it is to Him that I must be attached!" I won't ask who has a saint's tooth hidden away, and having a saint's tooth isn't necessarily a bad thing, but it reminds us that even the smallest things can be a hindrance to our holiness.
Some other things worth considering:
–           The esteem of others: "I am only that which I am before God," said Saint Francis of Assisi. "I am only that which I am before God." Of what use is it to be esteemed by men, says Alphonsus, if we are contemptible in the sight of God? And what does it matter if we are despised by the world, provided we are acceptable before God? "What does it matter," exclaims St. Teresa, "if we are loved or hated by creatures, provided we are without blame before you, O God!" How often do we work about what others think about us, about what our friends would say or do if we gave ourselves fully to God! How often we are concerned about what others think, and we let the fear of what they would do or say get in the way of what we need to do in our lives.
–           Our studies, or our works: how often do we consider things to be my work, my accomplishments, and lose sight of what really matters: that I need to save my soul . . . Could I leave this behind? Sometimes when we're asked to take on another task, we say what we're doing is too important. Remember that cemeteries are full of indispensable people. Saint Joseph Cottolengo, despite his great accomplishments, never lost sight of the fact that he was a mere instrument; he never became attached to his success. Once he commented: "There is nothing of mine in the Little House, not an inch of ground has been purchased, not a wall has been raised, not a garden fenced, but by the command of Providence: I am ready to tear down with my own hands every brick and fling every tile, were such the Divine bidding." Again, it's not that work or studies are bad things, but if I'm more attached to them than I am to God's will, I won't be free to do what God wants.
My own opinion, my way of doing things, my way of seeing things: Saint John Climacus says: "He who follows his own ideas in opposition to the direction of his superiors needs no devil to tempt him, for he is a devil to himself." Or, as Saint Bernard put it, "He who is his own master is a scholar under a fool."
–           The list goes on: these are all created things as well. What is our saint's tooth? Again, these aren't necessarily bad things; they're great things, if they help us get to heaven. But, as St. Gemma said, "But Jesus, Jesus, it is to Him [alone] that I must be attached!"
The things of this world, the created goods that are at my disposal, are like scaffolding. When a building is under construction, there's scaffolding all over it so the workers can climb to where they need to go and finish the building. We'd worry about a person if they said, "My, what beautiful scaffolding! I hope it stays like that!"
The things of this world are simply scaffolding: they are the means I use to get myself to heaven. If they aren't getting me to heaven, if they aren't letting me do God's will, then they're not fulfilling their purpose.
What is it that we're attached to? What is our saint's tooth? What keeps us from doing God's will?
Colloquy: We can end by conversing with our Lord upon the Cross. Saint Thomas Aquinas wrote that "Whoever wishes to live perfectly should do nothing but disdain what Christ disdained on the cross and desire what he desired." Ask Him for the grace to love what He loves, to desire what He desires, and to disdain what He disdained.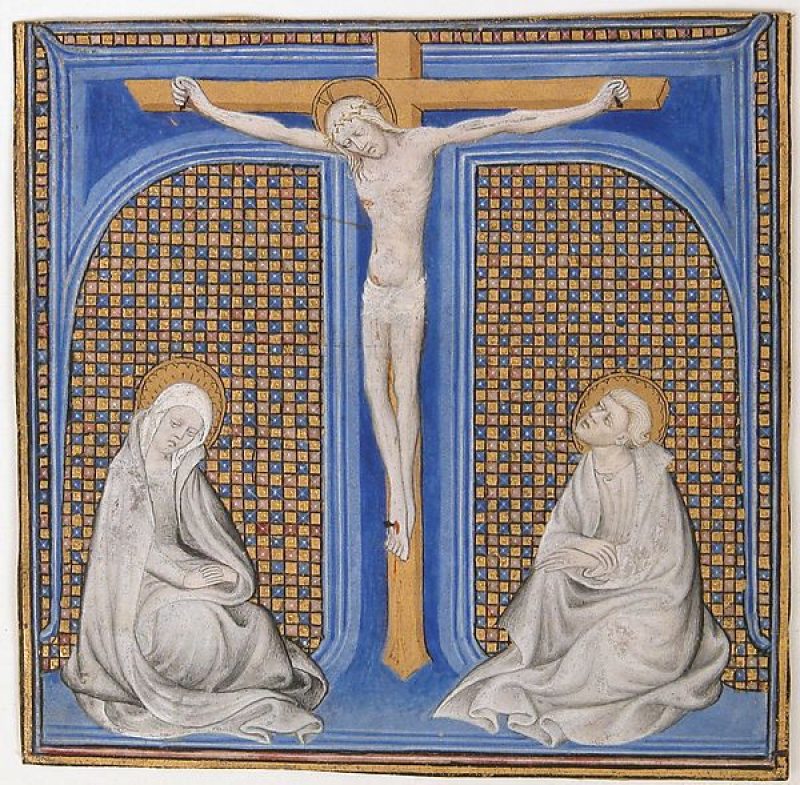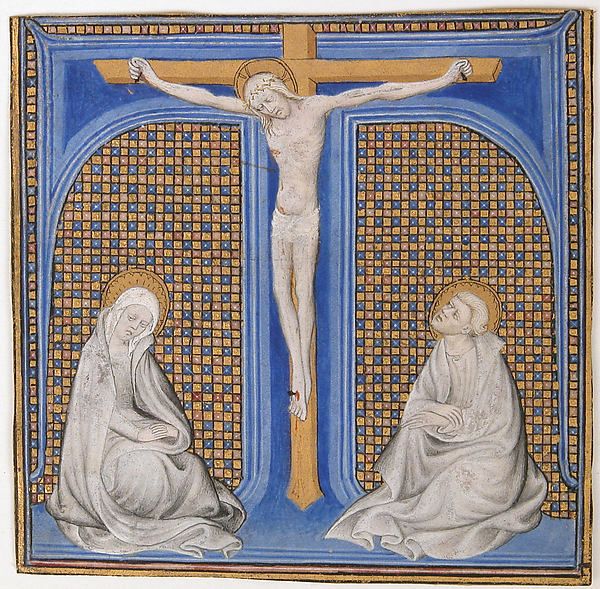 Take, Lord,
and receive all my liberty, my memory, my understanding, and my entire will, all that I have and possess. Thou hast given all to me. To Thee, O Lord, I return it. All is Thine, dispose of it wholly according to Thy will. Give me Thy love and Thy grace, for this is sufficient for me.
(Spiritual Exercises #234. Louis Puhl SJ, Translation.)